Maverick M20BB Filter Winder
The M20BB filter winding machine is ideal for manufacturing continuous, yarn or string, wound filters. This is a popular model, for producing high quality and good production volume when needed
Specifications:
The M20BB is capable of producing filters:
4.5" – 20.25" in length
1.5" – 5.5" diameter
Micron ratings of .5 to 200
Five spindle machine / 100 pcs/hr. 20"L.
Each spindle is set up and runs independently from one another.
I.E. : All five spindles can be set to run the same type of filters or all different lengths and microns if so desired.
Ninety second typical cycle time per 10" length
Single or three phase electric power
No air supply required
Machine frames and components, laser cut steel and other materials
All Filter Winding Machines are Made in Amarillo, Texas, U.S.A.
Dimensions:
L108" x W62" x H48"
Shipping weight 1270 lbs.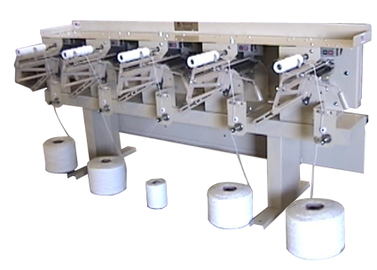 Copyright@2016 | All Right Reserved | Website design and marketing by TopZone Media